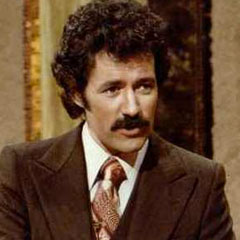 Alex Trebek
b. 1940 - 2020
Show: Jeopardy, High Rollers, Battlestars, To Tell the Truth, Classic Concentration
Years Hosted: 1980-1991

A born Canadian but now American citizen, Alex Trebek is a big name in the game show world! Although he is mostly known for his work on Jeopardy, Trebek also hosted on shows such as, "High Rollers," "Battlestars," and, "To Tell the Truth." Trebek also appeared as a panelist and/or guest star on popular Buzzr shows such as, "Card Sharks!" In addition to game shows and appearances on day time television, Trebek is active in the world of philanthropy and charity and actually hosts "The National Geographic Bee" in the U.S. and "The Great Canadian Geography Challenge" in his homeland of Canada!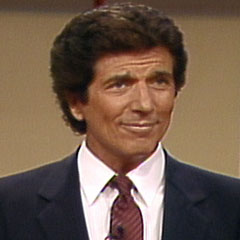 Bert Convy
b. 1933 - d. 1991
Show: Super Password; Tattletales
Years Hosted: 1984-1989, 1974-1978, 1982-1984

A born entertainer, Bert Convy started out as a singer and actor on Broadway and in various movies. He entered the game show world in the 60's as a panelist and then decided to take the reigns as host of Super Password and Tattletales in the 70's and 80's! His charm made the camera and audience love him!
Bill Cullen
b. 1920 - d. 1990
Show: Blockbusters
Years Hosted: 1980-1982

Like many other of our Buzzr hosts, Bill Cullen started his career on the radio announcing for sports and even hosting some radio game shows. In 1952 he entered the TV game show world on "Winner Takes All" and hosted many shows such as "The Price is Right," "Child's Play" and the show we know and love him for, "Blockbusters." He was even nominated for a Daytime Emmy for his work on Blockbusters!

Bill Rafferty
Bill Rafferty
b. 1944–2012
Show: Card Sharks, Blockbusters, Every Second Counts
Years Hosted: 1984-1985, 1986-1987, 1987

Rafferty was born in Queens, New York and started his career as a Military Policeman in the United States Army. He got his start in television as a roving reporter on the NBC reality series "Real People" which ran from 1979-1984. His game show career began when he took over for Bob Eubanks on the popular Card Sharks" in 1986. He then became the star on the revived "Blockbusters" on NBC in 1987.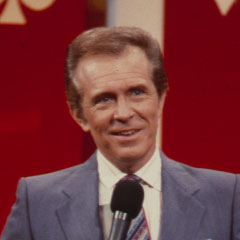 Bob Eubanks
1938 –
Show: The Newlywed Game, Trivia Trap, Card Sharks
Years Hosted: 1966-1988, 1984 – 1985, 1986 - 1989

Born in Flint, MI Bob Eubanks started his career as a disc jockey in Southern California and became a well known concert promoter bringing the Beatles to Los Angeles for their first ever concert in America. This led to him promoting groups such as The Rolling Stones, Bob Dylan, The Supremes and The Who. As well as managing the careers of Dolly Parton and Barbara Mandrell. By the time Bob was in his late 20's he was one of the must successful disc jockeys on Los Angeles radio and won the hosting job for ABCs The Newlywed Game in 1966. The show was a success from the start and by the next season Bob was focusing on his hosting duties full time. From there he went on to host such great shows as Trivia Trap and taking over on Card Sharks where his legend lives on.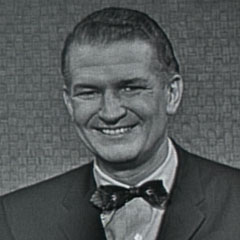 Bud Collyer
b. 1908 - d. 1969
Show: To Tell The Truth
Years Hosted: 1956-1968

Like many others of his day wanting to make it in the entertainment industry, Bud Collyer started his career on the radio announcing radio soap operas and even playing characters from time-to-time. He started out on television co-hosting ABC's "Break the Bank" and gained popularity hosting "Beat the Clock." His popularity continued to rise as he became the host of "To Tell the Truth," where he coined his phrase "Will the real…..Please stand up?"
Craig Ferguson
Craig Ferguson
b. 1962 -

Craig Ferguson is a Scottish born stand-up comedian, actor and game show host who has earned two Daytime Emmys for Outstanding Game Show Host for Celebrity Name Game. He has an extensive career in film and television and you may know him from the movie, How To Train your Dragon, The Late Late Show with Craig Ferguson, Join or Die with Craig Ferguson and The Drew Carey Show.

David Ruprecht
Dave Ruprecht
b. 1948 -
Show: Supermarket Sweep, The Price is Right Live!, The Family Feud Live!

David Ruprecht is an American actor and writer who is known for his work hosting Supermarket Sweep. He was born in St. Louis, MI and began his extensive Television and Movie acting career in 1977. He was the second host for the show when it was re-launched in 1990 and the subsequent re-launch in 2000 on Lifetime Television. Currently he is still acting on TV and hosting travel game shows in Las Vegas.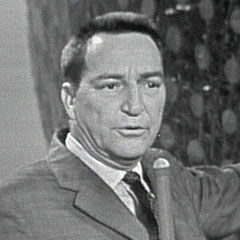 Garry Moore
b. 1915 - d. 1993
Show: I've Got A Secret, To Tell the Truth
Years Hosted: 1952-1964

Garry Moore began his career in the entertainment world as a radio host after dropping out of high school! He then moved to television and became a host of a fan favorite, "I've Got a Secret," as well as, "To Tell the Truth." His success on these shows made his trademark bow ties and crew-cut extremely recognizable!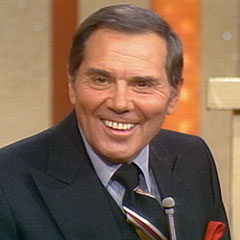 Gene Rayburn
b. 1917 - d. 1999
Show: Match Game
Years Hosted: 1962-1969, 1973-1982, 1983 (Match Game-Hollywood Squared Hour)

Gene Rayburn made his debut on television as an announcer on Steve Allen's "Tonight." From there, he made a name for himself in the 60's as the long time host of "Match Game." He remained the host even as the show changed and evolved into different versions over the years. In addition to "Match Game" Rayburn appeared on panels in other television shows such as "To Tell the Truth" and "What's My Line?"
Jim Perry
b. 1933 - d. 2015
Show: Card Sharks
Years Hosted: 1978-1981

Jim Perry started out as a singer and radio host during his college days and then graduated to become an emcee and TV host. During his time as host on "Card Sharks" Perry simultaneously hosted "Deadline" and "Headline Hunters" in Canada. This made him one of two emcees to host a game show in the U.S. and Canada at the same time. The other host was Alex Trebek!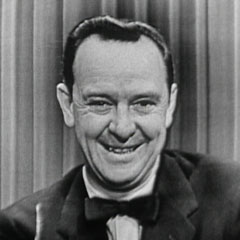 John Daly
b. 1914 - d. 1991
Show: What's My Line
Years Hosted: 1950-1967

Born in South Africa but raised in Boston, John Daly began as a reporter for NBC Radio. His time as a panelist on "Celebrity Time" lead to a career making opportunity as the host of "What's My Line." He hosted this popular show for 17 years! Bet he didn't know the commitment he was making at the time! In addition to hosting, Daly was a reporter for ABC and also made several appearances on television and in movies. He was a busy guy!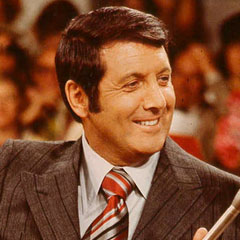 Monty Hall
b. 1921 - 2017
Show: Let's Make a Deal
Years Hosted: 1963-1977, 1980-1986, 1990-1991

Monty Hall is best known for his long time hosting gig on "Let's Make a Deal!" Born in western Canada, Hall started his career in Winnipeg radio and he was a natural! He did some sports announcing on the radio and hosted a few game shows until he had his big break on "Let's Make a Deal," which he produced, in addition to hosted, for almost its whole run!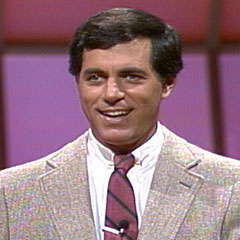 Peter Tomarken
b. 1942 - d. 2006
Show: Press Your Luck
Years Hosted: 1983-1986

After graduating from UCLA with a bachelor's in English and marrying his high school sweetheart, Peter Tomarken started out working on magazines. When he found that didn't suit him, he started his own advertising firm which lead to his first attempt at game show hosting! Reluctant to host at first, he soon realized he was a natural! He worked on shows such as "Hit Man" and the very popular "Press Your Luck!"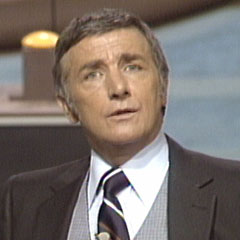 Richard Dawson
b. 1932 - d. 2012
Show: Family Feud
Years Hosted: 1976-1985, 1994-1995

Richard Dawson came to America from Hampshire, England to get his start as an actor in 1963. He appeared on TV shows such as "The Jack Benny Program," "The Outer Limits," and later "Hogan's Heroes." He then got signed on as a regular for the game show "Match Game" and from there was hired to host "Family Feud!" There was no better match for that show!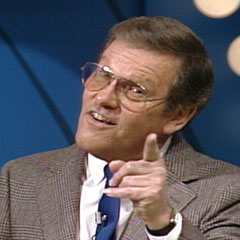 Tom Kennedy
b. 1927 -
Show: Body Language
Years Hosted: 1984-1986

For Tom Kennedy, hosting game shows ran in the family! His older brother Jack Narz was a fellow game show host. The brothers were co-recipients of the Game Show Congress' Bill Cullen Award for Lifetime Achievement. Tom's career started out hosting shows like "You Don't Say," and "Name That Tune," but his later work included shows such as "Break the Bank" and our favorite "Body Language."